Can I tell you how much I love fall? I absolutely LOVE fall. While it isn't quite fall yet, I am excited for the drop in temperature. I am also excited for the 3.6lbs I dropped this week! Yeah, boy!!!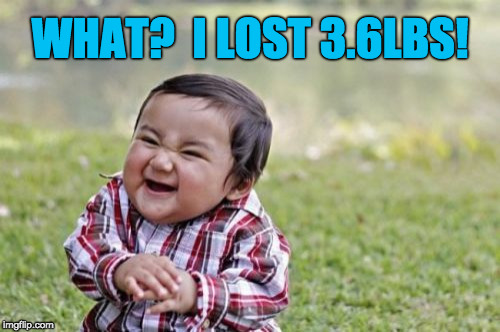 This is quite a feat given I did not work out not one single day. I know, what the hell happened to my deal with myself? I am going to be honest people, I am a workaholic. When there are things to be done at work, I find myself staying longer and longer hours.
So, on the 18th and 19th of this month we have a pretty big audit coming up at work. With my workaholic tendencies come pride issues. I KNOW that I want to kill this audit but in order to do so I was and am going to have to sacrifice some serious me time. Knowing this, I decided that time not being on my side, I would control what I could, which was the food entering my mouth. To be fair, I knew I was not going to find the time to cook either so last Sunday, Steph and I made some meals for the week and spread them throughout. We ran out too early in the week and the food choices following weren't always the best. I had made the decision however, to eat from 10:30am- 6:30pm only. This is called Intermittent Fasting and it seemed to work. Tomorrow the goal is to really plan out food for the week and have it set up so that there is ZERO reason to eat out and ZERO reason to make poor choices but all that said, I must take it one day at a time. I'll stick with the Intermittent fasting, and I set out one more goal for myself:
Number of Steps Activity Level:
0 – 5,000 Sedentary
5,000 – 7,499 Low active
7,500 – 9,999 Somewhat active
10,000 – 12,500 Active
12,500 or more Highly active
I am going to try and hit 8,000 steps a day (
or 4 miles
) 4/7 days. I feel like this is realistic. Update to follow mid-week!